Welcome to the birthplace of Thermal & Cold Cure Acrylic Impregnation
Acrylic C120 is a self-penetrating, low shrinkage, two pack anaerobic Impregnant that is designed to cold cure, not on the surface, but within the cavity away from oxygen starved atmosphere. Surface contamination simply evaporates off., leaving no trace. However if the impregnant is applied to a hot surface, it will deposit a tough glazed film with minimal penetration of the substrate. To achieve the best result, fill the cavity with C120, controlling flow e.g. blocking and damming, where appropriate, with thixotropic C120 GEL. Alternatively, for large cavities, first fill with a dry granular filler, then impregnant to the point of saturation. For all other purposes C120 is a stand alone product.
Characteristics: Solvent less Acrylic C120 has a viscosity thinner than water thus allowing deep cavity penetration. Impregnant unaffected by solar radiation. Mild, pleasant odour. Excellent chemical and temperature resistance. Long pot life. Curing 2 to 3 minutes (room temperature). Can be refrigerated to extend cure time.
COLD CURE APPLICATION
It is important that whilst C120 can be applied and cure in damp conditions. for best results C120 is applied in dry conditions to the point of complete saturation of the cavity thus eliminating trapped air. For larger cavities, first fill with dry white free flowing sand in layers followed by drenching of C120.
The product is capable of building the repair in-situ by reapplying C120 at 5minute intervals. It is equally at home for producing as a casting material, with or without fillers Temporary Sealing can be made during inclement/damp conditions and finalised saturation after an interlude of adequate dry weather
50ML C120 CARTRIDGE
Re-usable 50ml Application Gun
If not already acquired
£28.80
50ml Acrylic C120 Impregnant cartridge
£33.60
50ml Acrylic C120 Gel cartridge (Optional)
£33.60
10ML C120 SYRINGE
10ml Acrylic C120 Impregnant syringe
£17.10
10ml Acrylic C120 Gel syringe (Optional)
£17.10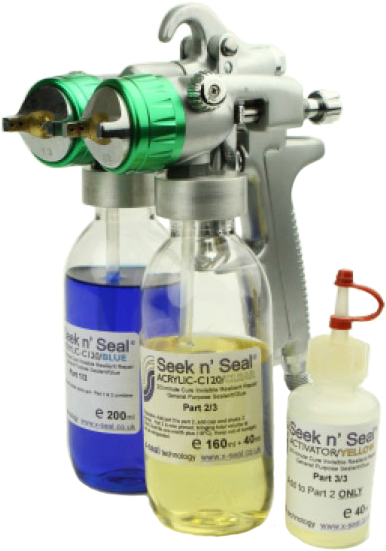 DUAL SPRAY GUN 400ML C120
Once primed with Activator, the product becomes a two pack impregnant of equal parts. Potlife one month. Mixing is post nozzle spray gun. Ideal for progressive spot saturation, building up the application at 10/15 minute intervals – time for each application to cure.
This is an important benefit where large defects require the addition of a granular dry filler to pack out the void and act as a retention for the impregnant. The repair would provide a permanent, long term weather seal within 10 minutes of application.
Subject to availability. Please enquire.
For further general information please reffer to the catalogue: Open Catalogue
Acrylic C120 Video
'X-Seal C120 added to cable embedded in drilled cast iron casting to form a 'gland' seal against leakage'.
Comment from client: 'C120 was the only sealant found to work'
THERMAL CURE
Thermal & Cold Cure Acrylic Impregnation Explained
Metal casting Impregnation – backed by over 60 years of technical innovation.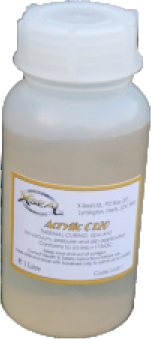 THERMAL CURE
Acrylic-T120 1 litre £56.00 incl P&P. UK only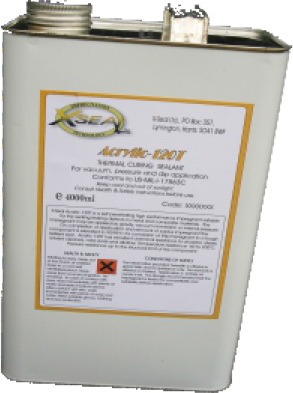 THERMAL CURE
Acrylic-T120 4 litre £48.00/litre = £190 incl P&P. UK only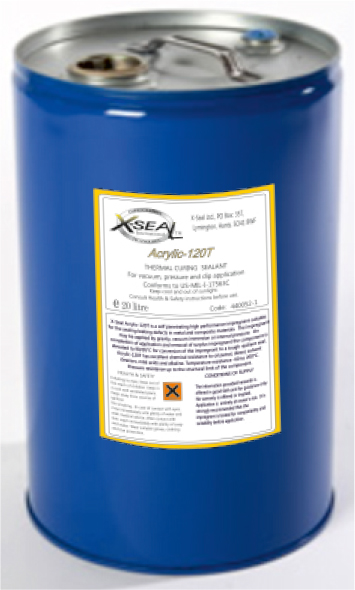 THERMAL CURE
Acrylic-T120 20 litre Enquire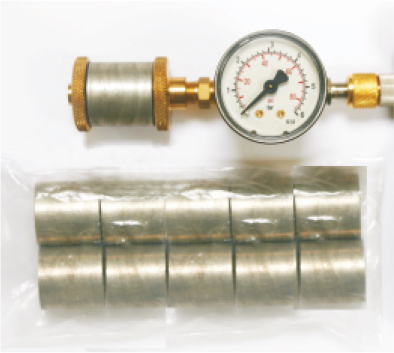 ALUMINIUM TEST RING
Conforming to US MIL 17563C Specification 1 of £14.50 10 of £13.75 each Pressure test fixture £45.00, excl gauge + P&P UK only
OUT OF STOCK
Sealing porous cast metal by vacuum impregnation (VI) is well entrenched within the engineering industry. A process procedure that requires no jigs and fixtures, just place it in a basket and pass it through a row of tanks and that is that. But it is not the only way to seal porosity. The author started his career in impregnation, dipping scolding hot castings into phenolic resin where the quenching effect drew the impregnant into the porosity, this was the eira pre vacuum impregnation. Pressure impregnation became a more desirable choice along with moderate vacuum impregnation using sodium silicate and polyester resin up to the 1960's when acrylic impregnation was introduced. The simplicity of the acrylic impregnation made VI the preferred option for 'in house' processing. With both hot dip and pressure impregnation becoming history, until now.
With making today's versatile impregnants available over the counter, alternative methods of yester year once again could be brought to the fore. Whilst VI had become dominant in most applications its drawbacks were overlooked, particularly as it was a process that had no means of effective quality control that can sometimes be overcome by a different approach. For example; Pressure Impregnation (PI) can do one thing not possible with VI; purging the porosity of contamination. Better still. it can be used as the test media, killing two birds with one stone. Even hot dip is a possibility on the right type of cast, using the residual temperature of a newly formed casting to draw the impregnant into the pores.
As acrylics have self seeking ability to penetrate the porosity without the need of vacuum, castings can simply be sprayed cold or Luke warm followed by heat cure. No water, no chemicals, no effluent just virgin impregnant from the can, complying with US MIL 17563C (USMS) Where as batch type processing cannot be undertaken without contaminating the impregnant making it non compliant to the Standard as being of questionable quality.
Whilst on the subject of quality standards. the one thing that has eluded the impregnation industry is in achieving an international. The USMS is as close as it got but it was in fact a self evaluation process with no reference to sealant formulations and thus no paper trail and no accountability. The principles of which where well founder but unenforceable and in fact unworkable. The problem also with the USMS is that it give false premise to something that has no credence at least towards batch VI as there is no answer to the problems of progressive impregnant contamination which in turn shows up a fundamental weakness in this method of porosity sealing.
The issue of quality assurance can be simply quantified by taking a bonafide USMS Test Ring and passing it through an impregnation plant using an 'in use' approved impregnant. The ring should seal. But there is a strong likelihood that it will not thus raising the issue as to the permanency of sealed components!.
Conversely to spray an approved impregnant onto known porosity does in fact make it compliant with the USMS, providing that the impregnant is not recycled.
TECHNICAL SPECIFICATION SHEET
Dated: 06.07.2010
Version: 2.0
File name: Technical Data Sheet – C120
Acrylic-C120 Impregnant
1. Characteristic data of the product
Acrylic – C120 is an impregnation sealant based on the development of thermal curing, monomer based acrylic impregnants used extensively in the world of the motor industry to seal porosity in automotive engine components and auxiliary equipment. Acrylic -C120 differs only that it cures at ambient temperature. The impregnant is both anaerobic and hydrophilic. It is self penetrating and cures within the substrate. Surface dampness will evaporate off, allowing the surface to remain free of impregnant. Suitable for treatment of: metal, stone, wood or composite material. Also regenerates strength to decayed and fragile materials as well as protecting against weather ingress and frost damage.
2. Physical and Chemical properties liquid
| | |
| --- | --- |
| Appearance: | 2 Pack Liquid Impregnant & Catalyst |
| S.G. @ 20oC: | 0.890-0.98 |
| Surface Tension: | 30 dynes/cm |
| Odour: | Mild methacrylate |
| Viscosity: | 20oC No 1. Zahn 27-31 sec |
| Fluorescent: | On request |
| Vapour Pressure: | <1mm Hg |
| Solvent: | Solvent free. Emulsifies: Soap and Water |
| Flash point: | 104oC |
| Volatile matter: | <2% |
| Shelf Life: | 12 months* |
| Gel Time: (room temp) | 60-180 secs |
| Anaerobic curing: | Yes |
| Hydrophilic: | Yes |
| Cure shrinkage: | 5-9% |
| Adhesive strength: | 112N/cm2 |
| Swelling: | (H2O 96hrs) 6-10% |
| Sealability: | 100% |
| Temperature Range: | -50/+200oC |
| Co-efficient/lin/exp: | 0.000157/oC |
3. Chemical Resistance (cured)
By extrapolation, US Mil Standard aluminium test rings treated with Acrylic-C120 Impregnant remained sealed when subjected to the following tests:
| | |
| --- | --- |
| Anti-freeze: | (ethylene glycol) 150oC – 14 days |
| Hydraulic Fluid: | 100oC – 14 days |
| Gasoline: | 23oC – 14 days |
| Engine Oil: | 150oC – 14 days |
| Water: | 100oC – 14 days |
| Brake Fluid: | 25oC – 14 days |
| Transmission Fluid: | 25oC – 96 hrs |
| Lubricating Oil: | 121oC – 48 hrs |
| Turbine Fuel: | 23oC – 48 hrs |
| Diester Grease: | 23oC – 48 hrs |
| 18% Sulphuric Acid: | 23oC – 2 hours |
| 10% Caustic Soda: | 50oC – 14 days |
| Stoddart Solvent: | 23oC – 48 hrs |
| Trichloroethylene: | 25oC – 14 days |
| Ethyl Alcohol: | 23oC – 48 hrs |
| Thermal Resistance: | 200oC – 24 hrs |
| Hydrocarbon Fluid: | 23oC – 14 days |
| Carbon Removal: | 23oC – 30 mins |
4. Approvals
The Porosity Sealant from which Acrylic-C120 Impregnant is formulated is based on product approvals from the following:
General Authorities:
US Navy MIL I 17563B Class 1, and 3.
Underwriter's Laboratory Inc. MH 16455.
Lloyd's Reg/Ship. MAT/05N1002.
British Admiralty
Automotive:
| | | |
| --- | --- | --- |
| Ford Motor Corp. | General Motors. | Chrysler Corp. |
| Hyundai Motor | Honda Motor Corp. | Volkswagen Co. |
| Toyota Motor Corp. | Nissan Motor Corp. | Perkins Engine Co. |
| BMW | Renault Motor Co. | Fiat Motor Co. |
| Bosch Auto. | Cummins Corp. | Citroen Motor Co. |
| Rolls Royce Motor Co. | Lucas Diesel Co. | Peugeot Co. |
| Caterpillar Corp. | Rover Motor Co. | |
Aerospace:
| | | |
| --- | --- | --- |
| Boeing Aircraft Corp. | (AWAC) | British Aerospace. |
| BAE/GW/374 | Bundesamt Fur | ML 8030-010 |
| Beschafhing | | |
This information and all further technical advice is based on our present knowledge and experience. However, it implies no liability or other legal responsibility on our part, including with regard to existing third party intellectual property rights, especially patent rights. In particular, no warranty, whether express or implied, or guarantee of product properties in the legal sense is intended or implied. We reserve the right to make any changes according to technological progress or further developments. The customer is not released from the obligation to conduct careful inspection and testing of incoming goods. Performance of the product described herein should be verified by testing, which should be carried out only by qualified experts in the sole responsibility of a customer. Reference to trade names used by other companies is neither a recommendation, nor does it imply that similar products could not be used.
CONDITIONS OF SUPPLY
All information is offered in good faith. No warranty is implied or offered. The user must ensure that the product is fit for purpose before treatment. Always test for compatibility.