Leaking Chimney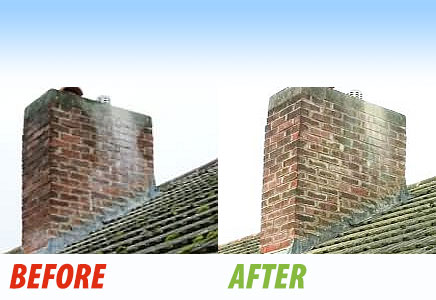 The loft space in this bungalow had suffered with rain penetration via the chimney for some time. A local builder had been employed to renew the flashing around the chimney and to repoint suspect areas – but without any noticeable improvement in damp penetration. For a fraction of the cost, Seek-n-Seal was then applied within a couple of hours – and the results speak for themselves.
Spectacular Results
Within days of the spray-on treatment (and persistent inclement winter weather), the owner noted a progressive absence of rain ingress. The application took two hours to complete. There was no mess, no scaffolding and no preparation needed other than for the structure to be dry. Anything of historical value is automatically preserved when impregnating with X-Seal's Seek-n-Seal.
Before

Seek-n-Seal Treatment

The 'before' image shows the damp chimney before treatment. Note the black marks at the top, probably caused by mould thriving in the damp conditions.
After

Seek-n-Seal Treatment

The absence of dark shading towards the top of the chimney in the 'after' image shows that the black mould has become asphyxiated by the sealant and washed away by rain.