Broken ceramic bird table fixed with Seek-n-Seal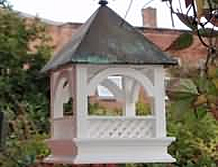 My ceramic bird table smashed to the ground and I painstakingly pieced it together, a section at a time before applying the Seek-n-Seal Acrylic C120 sealant, by drip feeding with a pipette, being careful not to touch the friable assembly.
Once cured, I added a further section of broken pieces and again applied the sealant until the rebuild was complete. Within 24 hours, the reassembled bird table received its first coat of white enamel paint and is once again back in business feeding the wildlife.
M. Coombes. Lymington Hants