Porosity sealing on a fire engine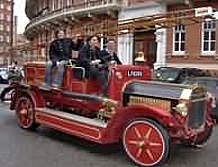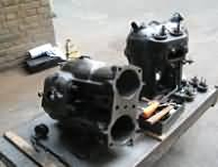 For over 50 years, students of the The Royal College of Science have maintained and operated (through the RCS Motor Club) Jezebel, a 1916 Dennis N-type fire engine.
A small leak had developed from the back of one of the two cylinder blocks, of the 9.25-litre 4-cylinder 60hp White and Poppe engine.
After melting and filing solder from an area of 4″ x 2″ an old repair was uncovered, which pressure-testing showed to be sound except for three pinholes in the water-jacket. One of the Mechanical Engineering professors (who runs a veteran car) suggested using X-seal's Seek-n-Seal Acrylic C120 and donated a small pack for the purpose.
Sealing pinhole leaks with Seek-n-Seal
A dam was created around each pinhole using Blutack and a puddle of C120 was made in each dam. Applied in this way, the product has sealed all the pinholes, thus effecting a sound repair.