www.x-seal.co.uk
Room temp. Cure
Suits
Spot Impregnation
Injection impregnation
Gross porosity – adding with fillers
www.x-seal.net
100 °C Cure
Suits
*Internal pressure impregnation
Vacuum Impregnation
Injection impregnation
Gross porosity – adding with fillers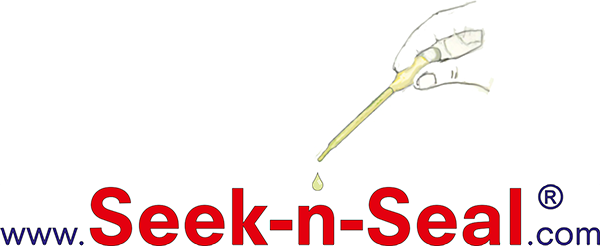 Acrylic Impregnation Miracle
Intelligent! Self Penetrating Liquid Acrylic Impregnant. Driven by capillary attraction. Mimics rain water. Finds, fills and seals unwanted structural voids and porosity. Encapsulates metal corrosion. Protects against surface erosion.
Fast cure. Invisible. Simple to apply. Protection from solar radiation – long life expectancy.
Acrylic C120 – solvent free, 2 part cold cure, low viscosity, low shrinkage. Cure time 2 to 5 minutes summer >30 mins winter. Anaerobic – designed to cure within the substrate. C120 surface residue simply evaporates – User friendly. No mess!. Mild pleasant odour.
Where voids are too large to retain the impregnant, simply pre-fill with dry retaining agent such as free flowing white sand or for aesthetic reasons, consider granulated host material. Or simply inject with C120.
Automatic 2 channel mixing. Acrylic C120 Self seeking, Impregnant, designed to saturate and seal voids of unlimited size and configuration. Also GEL for Thixotropic applications. For structural and pressure sealing applications. Compatible with most materials. No mess. Fast cure. User friendly. Low odour. Unaffected by solar radiation.
Application Gun required for 50ml. £28.80
Both Syringe and Cartridge are capable of pressure injection. 50ml operates with detachable (disposable) cartridges requiring a re-usable applicator gun.
C120 TWO PACK COLD CURE
Hand Trigger Spray doubles as dispenser for measuring small quantities of impregnant. Or activate total quantity.
THERMAL CURE AVAILABLE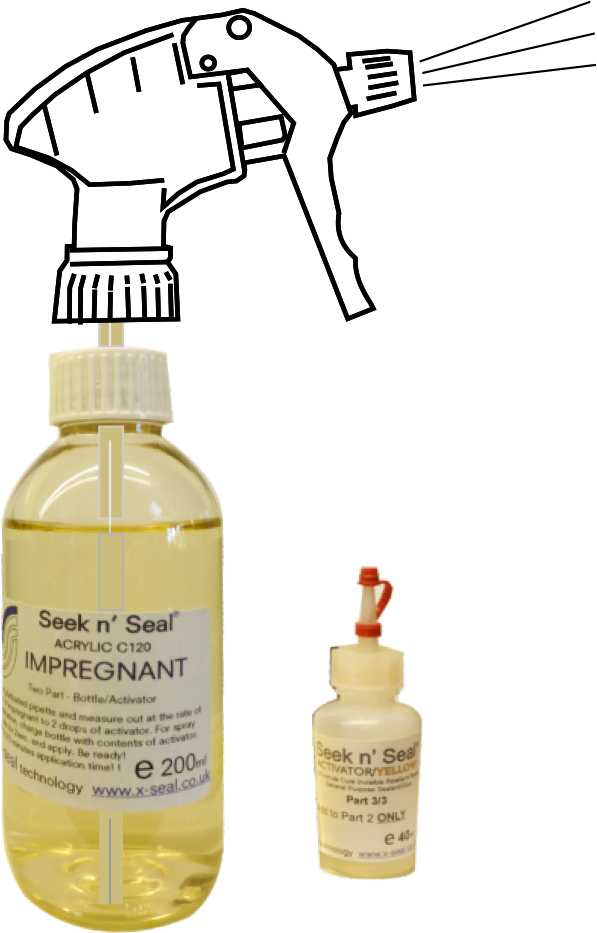 Bottle Pack Includes:
1 x Trigger Spray. 2 x 30ml Pipettes. 2 x 30ml Mixing Cups.
MIRACLE – SEEING IS BELIEVING!
CONSUMABLES
03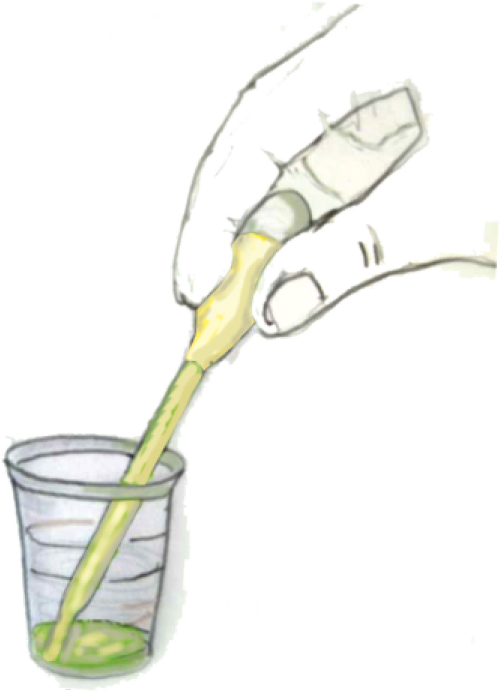 Whilst separate packs of mixing nozzles are available from the shop, should there not be a nozzle at the time of application, simply discharge impregnant directly from applicator/cartridge into a clean receptacle, swirl and apply.
These packs are inclusive with product choice but may be ordered separately.
PACK 10ml
2 x Mixing Nozzles
1 x 30ml Plastic Cup
2 x Short Plastic Pipettes
PACK 50ml
5 x Mixing Nozzles
2 x 30ml Plastic Cups
2 x Short Plastic Pipettes
PACK 100ml x 1 / PACK 200ml x 2 / PACK 500ml x 3
2 x 30ml Plastic Cups.
2 x 30ml Graduated Plastic Pipettes.
1 x 30ml Plastic Trigger Spray
£4.50 per Pack
£5.50 per Pack
£6.50 per Pack
Featuring Syringe and Cartridge usage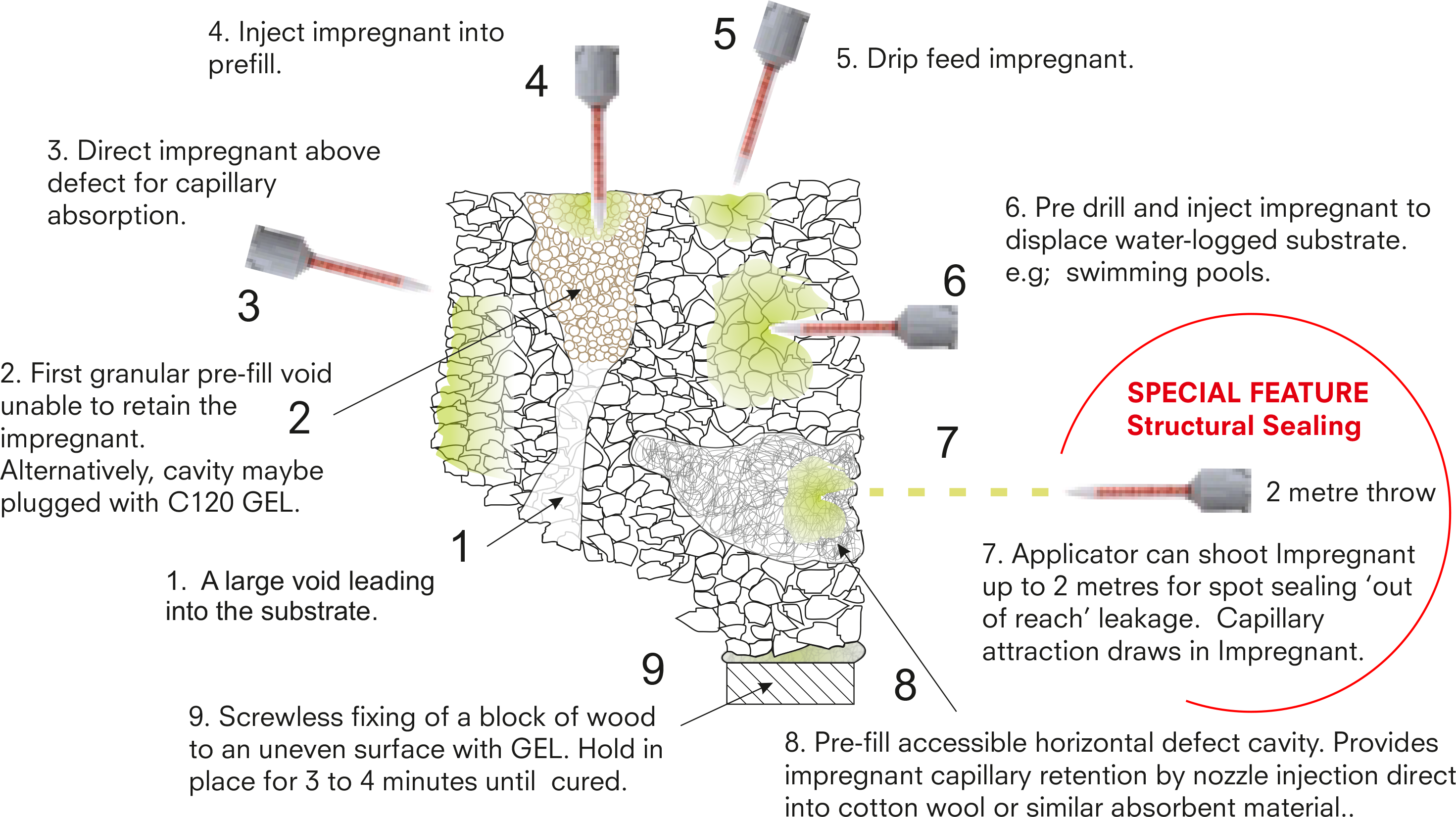 HEALTH & SAFETY
Acrylic C120 rating: Non Hazard Irritant. If risk of contact, appropriate gloves should be worn. For commercial application with risk of body contact, wear appropriate garment together with eye protection. Wash off contact with soap and water. Flush eyes with cold fresh water and seek medical attention. Always apply in well ventilate aera, otherwise protect with personal clean air respirator. Remove contaminated garments immediately and shower.
APPLICATION TIPS
04
A disposable paint brush can prove useful in marshalling the impregnant into a defect. Acrylic C120 saturated cotton face pad is most useful, placed over the defect to aid capillary transfer of impregnant into the defect.
Burst hosepipe emergency: a). Wrap tightly with two layers, of elasticated cotton bandage. b.) Encase with plastic film, leave top open. c). Clamp to seal ends to pipe with cable ties. d). Add impregnant to cavity, gently massage and leave to cure.
For sealing very large cavities, see section dealing 'pre-fillers'.
Securing a loose wooden table leg; simply fill cavity with impregnant. Loose joint in any material: wood, metal, ceramic etc, simply add drop of impregnant close to the interface and note instant absorption.
Recover tired wooden screw holes; a). Add cotton wool and inject with impregnant. b). Drill pilot hole and secure. Regenerates 'in place' tired mastic jointing compounds e.g. Silicone Rubber…! – Do not remove.. just impregnate!
Add Activator to C120 bottle, shake – 2 sec – apply immediately. Small quantities: 1ml C120 x 2 drops of activator. Pre chill in refrigerator for extra application time.
Ensure the application is ready.
There are two ways to apply the impregnant, first, simply nip the top of bottle spout and apply, second, prepare to spray with compressed air using drench gun. Use minimal air pressure to avoid atomisation of the impregnant.
Wear gloved hand for holding the bottle, avoiding transfer of heat from hand into the impregnant.
Do not attempt to make the impregnant cover a large area. Importance is for the impregnant to saturate.
Do not apply in direct sunlight. The surface to be treated should be in the shade and cool. A hot surface will encourage the impregnant to glaze the surface with little penetration.
Do not apply to lose surface not conducting to main substrate. Remove before impregnation application.
Do not apply to wet surface such as rising damp.
Have Container ready containing cold water, for which to purge the drench gun of un cured impregnant.
There is no solvent for when it is cured.
Wear protective clothing, eye and breathing face mask for major applications.
Apply in calm weather conditions.
USE OF PRE-FILLERS
05
Acrylic C120 has a unique inter reaction with granular fillers, for example white free flowing sand and walnut. Cavities, too large to have capillary attraction for the impregnant are best pre-filled. Almost any granular substance can be used including salt (wood rot recovery), ground up parent stone (ideal for matching purposes), matching metal powder (filling in a cavity in a cast iron cylinder block). Fillers achieve two things, retainment for the liquid impregnant and elimination of polymer shrinkage.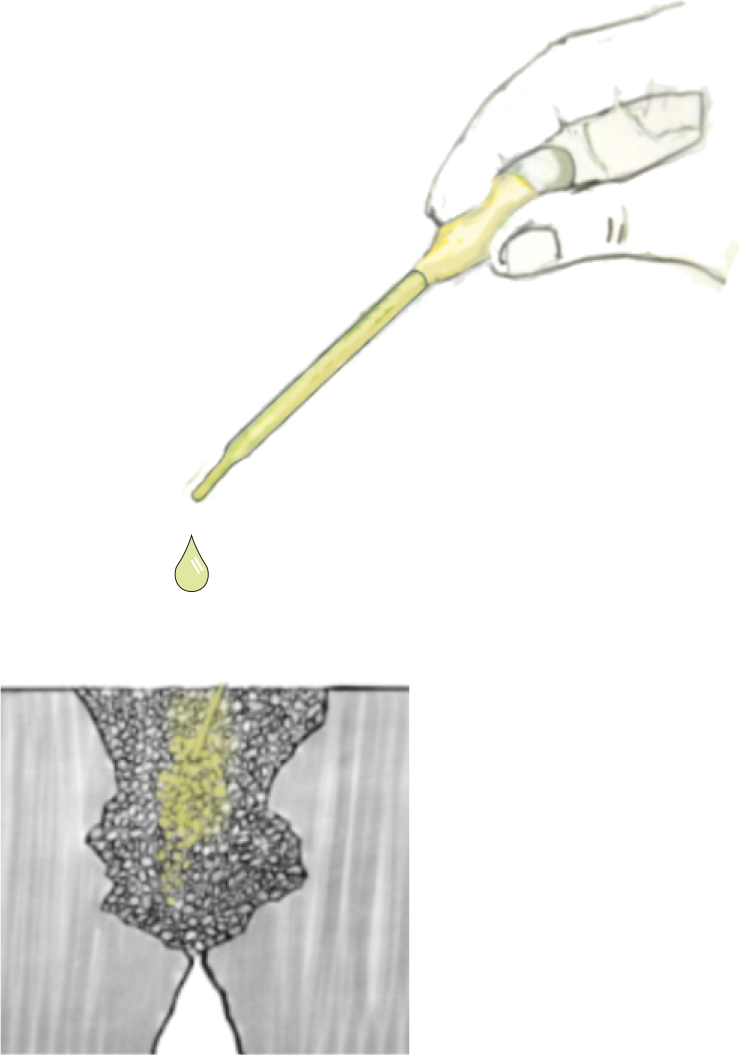 CASE STUDY PEKING TO PARIS CAR RACE 2013
06
Acrylic – 120C 'Magical-Miracle'
Impregnant stems damaged radiator leak for over 6,000km!

Jaguar Xk120. Car No: 66. Entrant: Albert Bessudo & Bernard Joanin. Rally: 29th May to 29th June 2013.
EXTRACT FROM LOG
June 6th – Start – "large leak on radiator. Clogged with 'magical' product and able to take to the road to new destination."
June 20th – "New small leak we plugged with 'miracle' product. It seemed to hold. Until when?"
June 21st – "Having travelled a distance of 6,416km from time of miracle repair a pool of water was found under the car last night, finally proved that the leak from the radiator was much larger and the 'miracle product' had its limits."
Editorial Note
Magical/Miracle (Acrylic-120) repair:
"On the 6th day, without dismantling, the radiator was drained, a patch of cotton wool, saturated in Acrylic-120C, was prepared and placed over the defective area and held in place for 3 minutes whilst it cured."
C120 A MUST HAVE! – TOOL BOX ADDITION WHATEVER YOUR PASSION
WOODEN WHEEL RECOVERY – by Peter Young
07
Wheelwright repairs often result in complete disassembly of the wheel which can be both expensive and time consuming.
Fortunately, being an avid veteran car enthusiast, having spent his working life developing sealant impregnation technology, put his knowledge to good use in seeking out a reliable DIY remedy to the problem of loose spokes.
15 years later, many club cars continue to be rallied on sound wooden wheels impregnated with Acrylic C120.
The method is simply to fill the cavity between rim and spoke and within the hour one can be safely back the road. See fig 1.
To date 2020, X-Seal has no knowledge of any failure!
TECHNICAL
Bonding of the elements with Acrylic C120 will not only reduce the likelihood of wheel collapse but greatly increase its strength as a result of cohesive rigidity.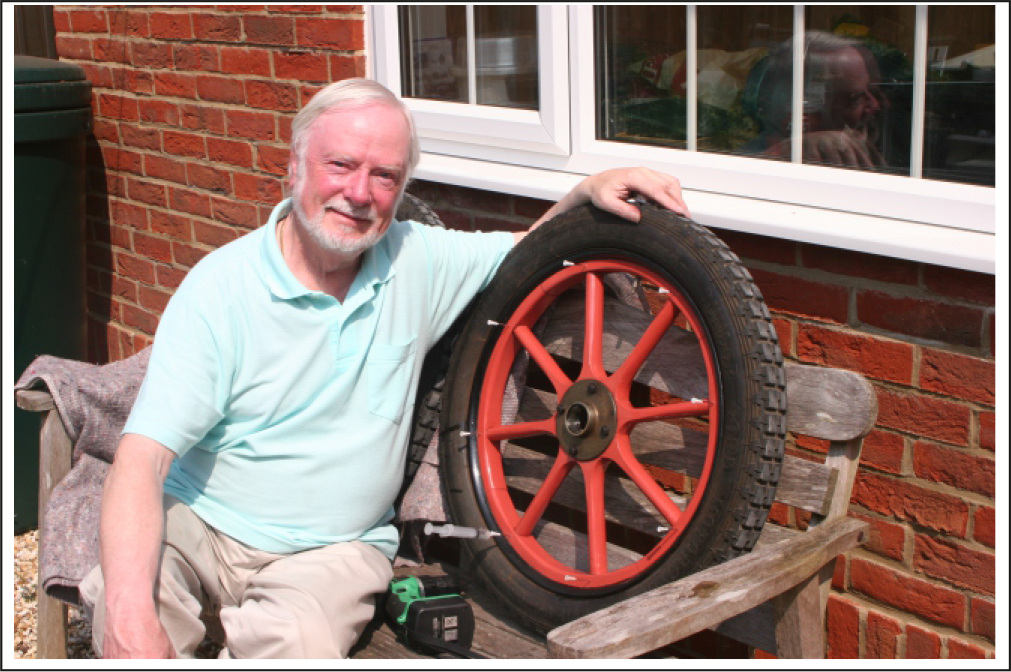 Peter Young (inventor) with an early wheel showing pressurising (hypodermic syringe) through the rim. This is recommended when difficulty is encountered drip feeding C120 impregnant from spoke entrance.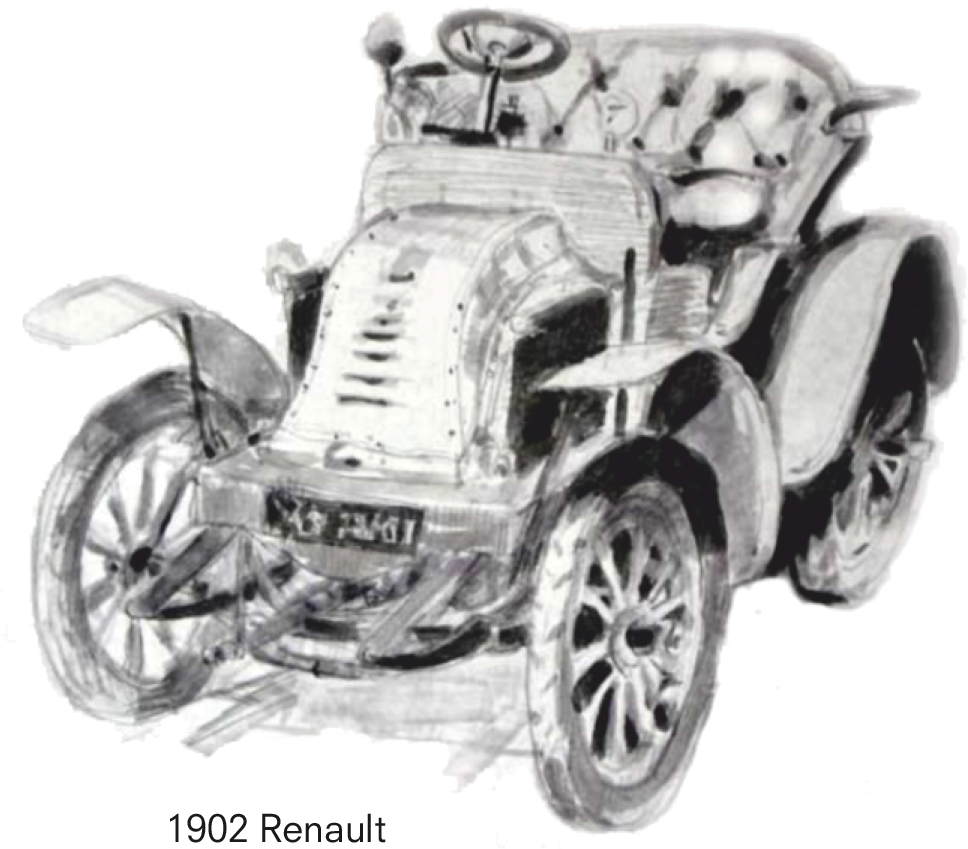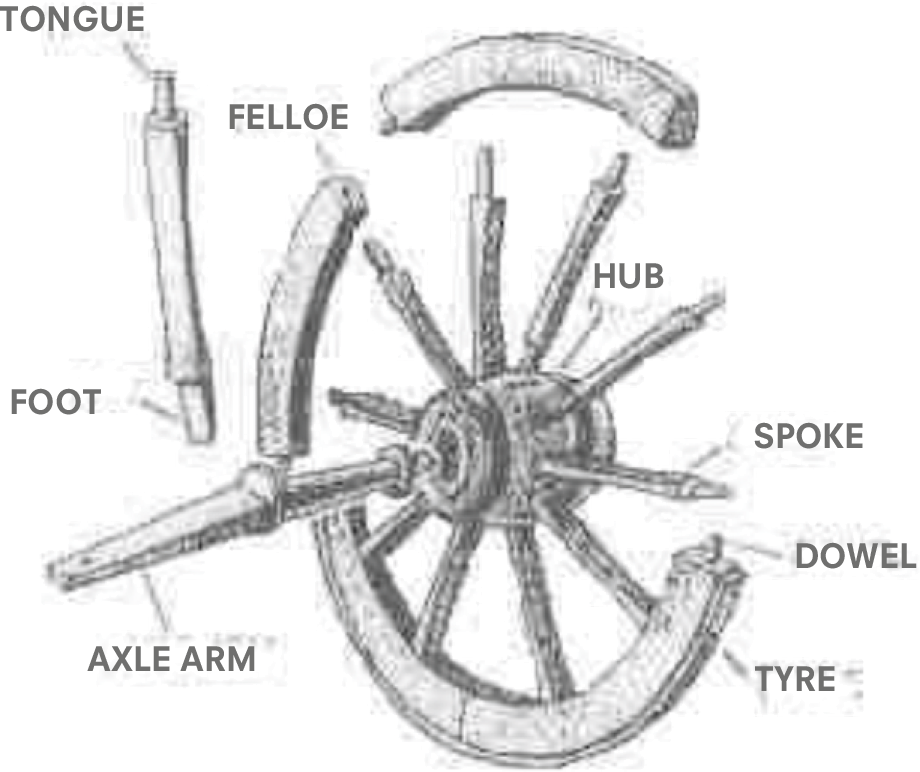 Acrylic-C120 Cold Cure Application
08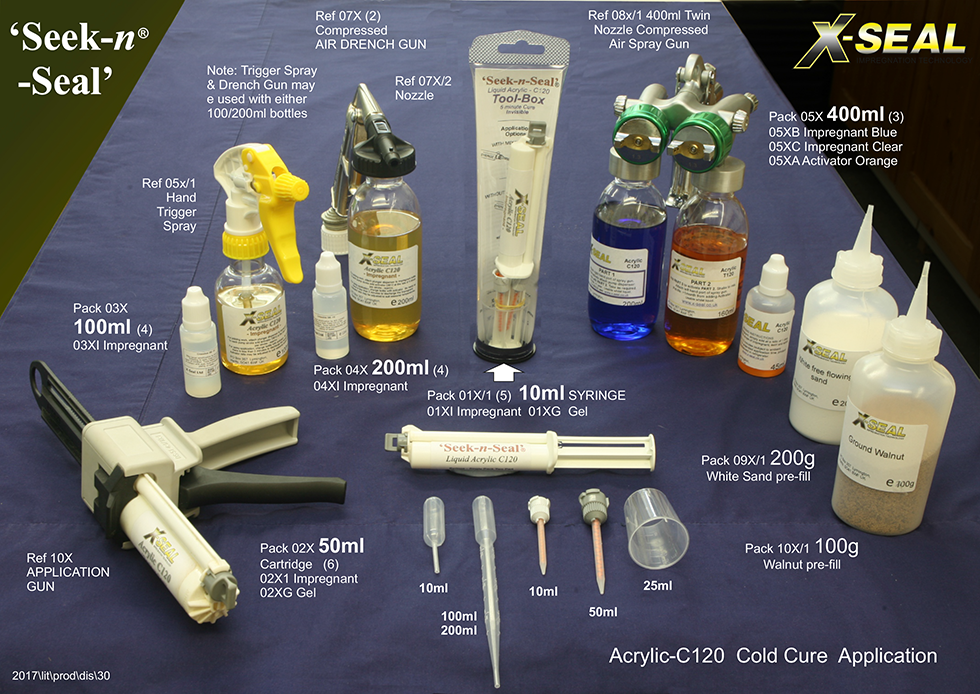 With the exception of the twin nozzle spray gun all other options are supplied with mixing cups and plastic pipettes. In particular for discharge from syringe and cartridge, should mixing nozzles become depleted.